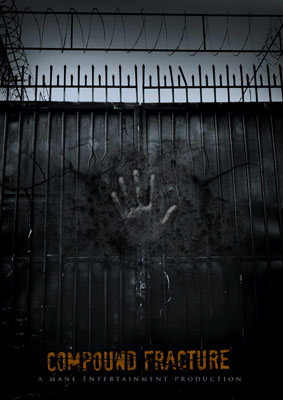 You may know Tyler Mane from playing Michael Myers in Rob Zombie's Halloween & Halloween II and Rufus in The Devil's Rejects, but he is also a filmmaker and releasing his first project Compound Fracture, through Mane Entertainment. Mane wrote and starred in the film along with his wife and Halloween II actress, Renae Geerlings. The cast also includes two men behind the slasher mask, Derek Mears of Friday the 13th fame and Muse Watson from I Know What You Did Last Summer. Mane will be screening the movie Tuesday September 25, 2012 in L.A. and has a second feature in the works.
"Throughout my career, I've been very blessed to work with such top talents, but I'm even more excited to collaborate with many of these friends on my company's first project, Compound Fracture. This process has been incredible, and we've already lined up our second project, Penance Lane, which will shoot in Los Angeles in a few months. That's the whole reason I came here in the first place—to make movies," he said.
Here's the Compound Fracture synopsis:
Michael Wolffsen [Mane] has just gotten custody of his only sister's son after her husband murdered her before Michael's very eyes. When he receives an urgent phone call, Michael takes his nephew and wife and makes the journey home to his only other living relative: his estranged, eccentric (and extremely paranoid) father [Watson] who is obsessed with building an unassailable compound. Once there, Michael hopes to repair his shattered family, but instead he finds that they are all trapped inside his father's creation when the ghost of his vengeful brother-in-law [Mears] returns to wipe out the rest of the Wolffsen family.